Battle of the Boyne Study Day
---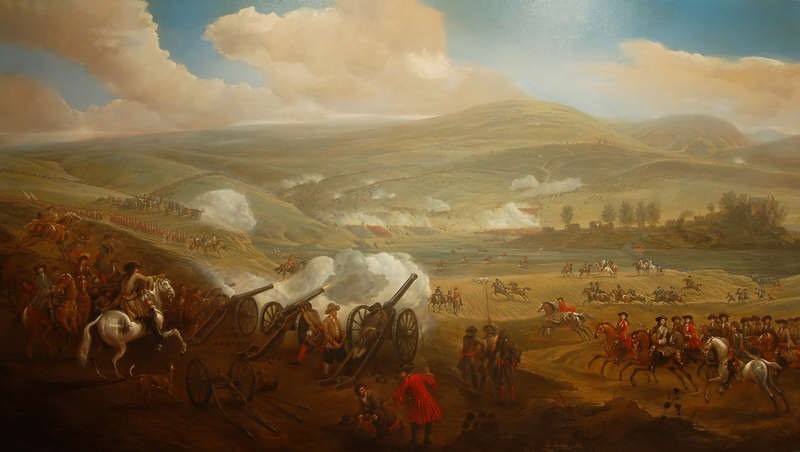 Format
THE WILLIAMITE WARS IN IRELAND, THE BATTLE OF THE BOYNE
Introduction: To continue the progressive story of the Williamite Wars in Ireland the URC will host a Battlefield Study of the Battle of the Boyne.
During the journey to the Boyne our tour guide, Colonel (Ret'd) Don Bigger (military historian) will explain the background to the political setting in Britain/Europe leading to conflict. An information leaflet will be available for each guest.
Dress: Weather dependent casual and practical. At stand Six there will be a requirement to walk approx. 200m from the road junction to Old Donore Church at a very leisurely pace.
Transport and Timings. 0815hrs, Translink Coach (35-seater) arrives at the URC, departs 0830hrs.
By prior arrangement there may be an option to collect guests at 0845hrs from Sprucefield Shopping Centre (Belfast to Dublin Bus Stop). The coach will arrive back in Belfast around 1915hrs. Events and travel timings are reasonably generous to include: question and answer, refreshment and comfort breaks.
Other Information
OUTLINE PROGRAMME:
0815hrs – 0830hrs
Assemble outside the URC – Coach waiting in Royal Avenue (35-seater). Departing 0830hrs.

0830hrs – 1030hrs
Travel to the Boyne to include a comfort stop / break at the Applegreen, Service Station, Dundalk. Please note: there are no toilet facilities on the bus.

1030hrs - 1415hrs Battlefield Study – Stands One to Five:
TULLYALLEN
OLDBRIDGE FORD
OLDBRIDGE VILLAGE
GROGGIN's FIELD
DRYBRIDGE

1415 – 1445hrs Lunch at Oldbridge House (light lunch included)
1445hrs – 1515hrs Tour of Oldbridge House Visitor Centre
(entrance fees included)
1515 – 1715hrs Battlefield Study – Stands Six to Nine:
6. OLD DONORE CHURCH – refreshments on the Battlefiel
7&8 ROSNAREE AND ROUGHGRANGE
9.DULEEK BRIDGE
1715 – 1915hrs Return to Belfast (earlier if possible). Short stop at Applegreen tbc.