Florence Nightingale
---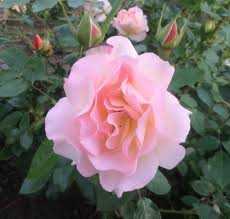 Member, Joan Thompson, trained at The Nightingale Training School for Nurses, St. Thomas' Hospital and has been a member of The Nightingale Fellowship since then.
Joan was part of a NI committee planning events (sadly now cancelled) to commemorate the Bicentenary. Being aware of the Florence Nightingale rose, she spoke to a lovely clutch of gardeners in Botanic Gardens, including the Head Gardener in September 2019, about the prospect of planting Florence Nightingale roses in the Rose garden. This proposition received multiple nods of approval. Thirty roses arrived last November and are now planted in a very strategic place. The rose gardener/expert is 'out of his tree' with delight and predicts a wondrous bloom in June.
Fingers crossed, we can visit by then!