Hinch Distillery Whiskey Masterclass
---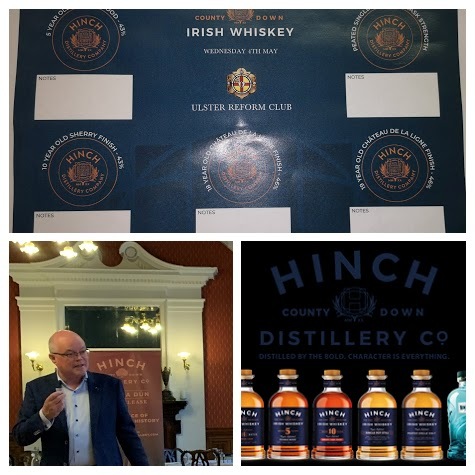 A very pleasant evening was enjoyed by members and their guests on 4th May when the Dining Room of the Club was converted into a U-shaped classroom, with Michael Morris, International Sales Director from Hinch Distillery explaining the history of the decline of whiskey distilling in Ireland post-1922 from 148 distilleries to a handful. Now there is a dramatic escalation in the number of new distilleries coming into operation with Irish Whiskey taking on Scotch Whisky in world markets including the USA and China. We were given the background to 5 Hinch whiskeys ranging in price from £35 to £289 per bottle: the first four being a 5-year-old double wood; a 10-year-old sherry finish; then both an 18-year and a 19-year-old Chateau de la Ligne finish. With our questions being answered throughout, we tasted these whiskeys under the guidance of Michael, in between small plates of delicious food from our chefs; Chicken Liver Parfait, Tiger Prawn & Smoked Cod Arancini and Parma Ham with Beetroot, Avocado, and toasted Pine Nuts.
A Dark Chocolate Tart with Spiced Orange accompanied our final whiskey, a peated single malt 59.2% cask strength; we learnt that the peat taste comes from heating the grains over a peat fire and not from peat in the stream water, as some had previously thought. Heather McCracken (heather.mccracken@hinchdistillery.com, 078 5300 5656) is the person to contact if you wish to invest in the Hinch Single Cask programme. A small number are being retained for the local market with a discount available to Ulster Reform Club members.
Thanks to member Terry Cross, owner of the Hinch Distillery; to Committee member, Terry Loughins for organising the event; to Michael and Heather for presenting in such an entertaining manner; and thanks to all the Club staff involved.